Explorer Series is a program of science based field trips and hands-on workshops for adults who want to deepen their understanding and appreciation of the world around them. Our guest speakers include experienced naturalists, professionals and leaders in their field who enjoy sharing their talents and knowledge with others.
Proceeds support environmental education programs for all ages that are offered by Yolo Basin Foundation.
Batty for Bats – with Corky Quirk
Saturday, July 24, 2021 –
Sold Out


6:30 – 9:30 p.m.
Saturday, August 21, 2021 –
Sold out


6:15 – 9:15 p.m.

Event Limit of 6 pods – $200/pod (4 people/pod)

Be part of an exclusive bat experience with Yolo Basin Foundation's own bat expert Corky Quirk. You'll learn about their natural history and biology and even get an up-close look at live bats. The group will meet at the Yolo Bypass Wildlife Area Headquarters and caravan to the bat viewing site in the Yolo Bypass Wildlife Area. To make this event extra special, the Talk portion of the program will take place at the viewing location. We are often joined by a rice farmer or cattle rancher who shares their experience about wildlife friendly farming and ranching in the Central Valley. As the sun sets, you will enjoy drinks and hors d'oeuvres as the group awaits the spectacular fly-out of hundreds of thousands of Mexican free-tailed bats!

By registering for a Bat Walk, you are agreeing to follow the health and safety requirements at the time of the event. This could include all guests over 2 years old being required to wear a face-covering that covers both mouth and nose and practice physical distancing. To ensure proper physical distancing, we ask that each group stay in their pod square.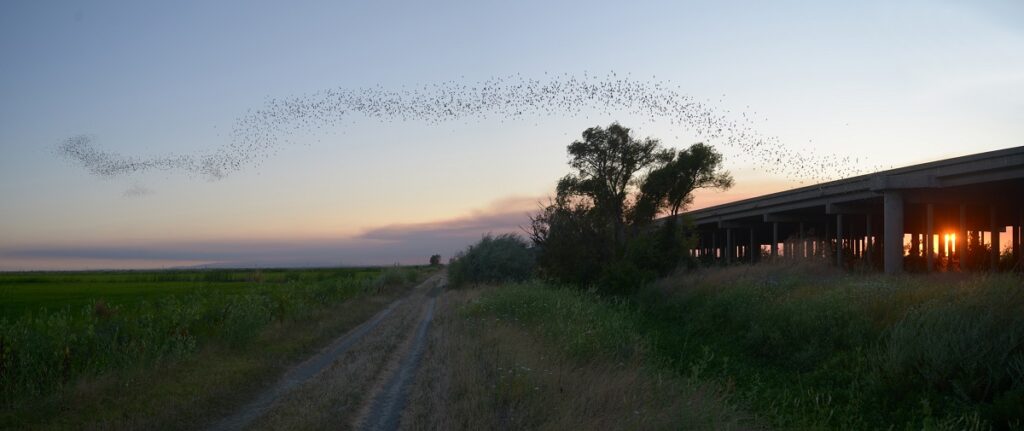 NOTE: You will also have the opportunity to sign-up for a virtual Talk that you can watch at one of the designated times indicated on the registration site, which will take place a different day than the event.
---
Can't make it? Consider making your payment a tax-deductible donation.
Please be certain you are able to attend before registering for a program. All refunds due to participant withdrawal are subject to a $10 administration fee. No refunds will be given within 14 days prior to the start of the program.