Flyway Nights is a monthly speaker series highlighting environmental issues, current research topics in conservation,
and natural history of Northern California.
Talks are scheduled at 7 p.m. on the first Thursday of the month

from November through April.

This year's events are going virtual, via Zoom.
Pre-registration will be required to receive event link. Flyway Nights is free to Yolo Basin Foundation members and open to the public. A $5 donation is suggested for non-members.
---
2020-21 Flyway Nights
We would like to thank our 2020-2021 Flyway Nights
guest speakers for sharing their time, wisdom, and experiences.
Rachelle Tallman
Ann Holmes
Sophie Preckler-Quisquater
Joe Hobbs
Michael Parker
Charlie Russell
Eva Butler
Recordings of each talk are available on our YouTube Channel
Talks from the 2020-21 Season
Yolo Basin Foundation

Graduate Student Fellowship Recipients
Click here to watch a recording of this talk on YouTube
Boosting juvenile salmon survival using the rice fields in the Yolo Bypass – Rachelle Tallman, UC Davis Graduate Group in Ecology
It has been shown that Chinook salmon reared on rice fields have high growth rates due to the warm temperatures and high food concentrations found within these agricultural floodplains. Yet it remains unclear whether these growth rates result in higher survival to the ocean. Rachelle used acoustic telemetry to track juvenile salmon from Sacramento out to the Golden Gate Bridge in order to test whether raising salmon on winter-flooded rice fields had higher survival compared to fish reared in a laboratory (hatchery) setting. Rachelle's research interests focus on improving fisheries conservation through alternative management strategies and developing a better understanding of how certain ecosystems function.
What do bats eat? Genetic analysis of bat guano – Ann Holmes, M.S. Graduate Group in Ecology & Genomic Variation Lab
As the sun sets on Yolo Bypass, thousands of Mexican free-tailed bats leave their roosts to feed. Scientists and farmers agree that these bats benefit rice and other Sacramento Valley crops by eating moths and other pests. However, the bats usually fly too far and high for us to observe their feeding behavior. Previous observations of bat diet have been limited to guano dissection. This study uses genetics to identify insects eaten by bats. I will describe how four undergraduate student researchers and I sampled bat guano in the summer of 2019 and 2020, how we use genetics to study bat diets, and what we expect to find.
---
Peaks, Valleys, and Farms: Insights into the complex heritage of Western red foxes
Sophie Preckler-Quisquater, UC Davis Mammalian Ecology and Conservation Unit
Click here to watch a recording of this talk on YouTube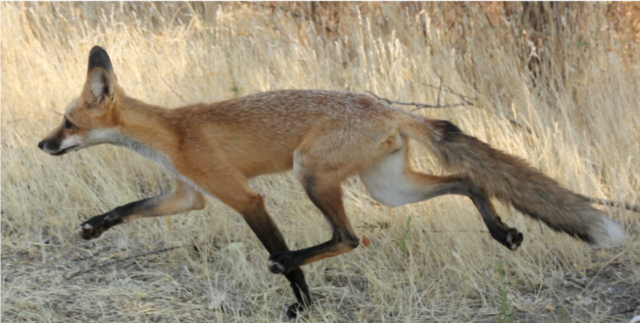 The Sacramento Valley red fox (SVRF, Vulpes vulpes patwin) is endemic to the northern Central Valley of California. It is considered a State Species of Greatest Conservation Need due to its decline in abundance from historical levels and restricted distribution. While its closest relative, the Sierra Nevada red fox (Vulpes vulpes necator) occupies high elevation, subalpine habitat, the Sacramento Valley red fox appears to be uniquely adapted to the semi-arid, lowland region that is its namesake. Along with habitat loss, hybridization with nonnative red foxes of fur-farm origin has been identified as a threat to the genetic integrity of the Sacramento Valley red fox along the southern edge of its range. Sophie uses a combination of traditional wildlife monitoring techniques and "next-generation" genomic tools to characterize the ecology and evolution of this endemic subspecies, and address the potential consequences of continued hybridization with the nonnative red population.
---
Current Status of the Yolo Bypass Wildlife Area
Joe Hobbs, Yolo Bypass Wildlife Area Manager
Click here to watch a recording of this talk on YouTube
Are you up to date with all the changes in the Yolo Bypass Wildlife Area? Wondering about the new pipes, pumps and bridges? Joe Hobbs will fill us in with the updates about the exciting projects as part of the Yolo Bypass Wildlife Area Habitat and Drainage Improvement Project!
The Yolo Bypass Wildlife Area Habitat & Drainage Improvement Project is led by Ducks Unlimited and supported by a coalition of partners, including California Department of Fish and Wildlife (CDFW), Yolo County, Yolo Basin Foundation, and the Metropolitan Water District of Southern California.

The project includes five major components that will enhance the Yolo Bypass Wildlife Area's ability to manage wetland resources and agricultural operations and is identified as the top priority in the Yolo County's 2014 Yolo Bypass Drainage & Water Infrastructure Improvement. Project improvements will allow the CDFW to:
Expand the acreage of managed wetlands within the wildlife area

Increase the productivity of existing wetlands

Improve management for rice fields

Reduce on-site flooding from the South Davis Drain

Increase CDFW and public access to the Wildlife Area
Joe Hobbs has been the Yolo Bypass Wildlife Area Manager since early 2018. Previously, he was the Statewide Elk and Pronghorn Coordinator. During his 18 years with the California Department of Fish and Wildlife, he has worked in the wetlands program, timber harvest review, and the private lands management program. He also worked for the Department from 1992 to 1997 in Wildlife Management as a student assistant while going through undergrad and graduate school at California State University, Sacramento. Joe completed his M.S. on the Fall and Winter Distribution and Habitat Use of the Tule Greater White-fronted Goose in the Sacramento Valley, California.
---
Restoring Common Murres to Devil's Slide Rock: A forty-year history of seabird conservation along the central California coast
Michael Parker, California Institute of Environmental Studies
Click here to watch a recording of this talk on YouTube
Devil's Slide Rock is a small nearshore islet located in San Mateo County. Despite its small size, this rock has become a significant symbol for seabird conservation. We invite you to join us for the story detailing the history of the murre colony at Devil's Slide Rock. We will explore the decline and eventual extirpation of nearly 3,000 murres from this colony due to anthropogenic factors occurring in the 1980s, explain efforts started in the mid-1990s to use a novel restoration technique, known as social attraction (decoys, recorded vocalizations, and other props), to re-establish murre nesting at this colony, and discuss current efforts to protect this and other seabird colonies along the central California coast.
Mike worked for the U.S. Fish and Wildlife Service, San Francisco Bay National Wildlife Refuge Complex when he led the Common Murre Restoration Project from 1996 until 2002. Currently Mike works for the California Institute of Environmental Studies, a non-profit organization based in Davis that is dedicated to advancing the conservation of coastal and marine birds and healthy ecosystems through sound science, restoration, partnership, and community outreach.
photos courtesy of San Francisco Bay NWRC
---
It's Not Just Birds – Plants of the Yolo Bypass Wildlife Area
Charlie Russell
Click here to watch the recording of this talk on YouTube
When you visit the Yolo Bypass Wildlife Area (YBWA) in Davis, CA have you ever wondered what those flowers are that are blooming along the road, in the rice fields, out in the canals? Are they native plants or introduced? There are many different plant habitats in the YBWA and they support a very wide range of flowering plants. In this presentation we'll identify many of the common plants that you are likely to come across while you are visiting the public areas of the YBWA on foot or by car. In this virtual presentation, Charlie Russell will help you identify the good, the bad, the ugly, and even the poisonous ones.
Charlie Russell has a bachelor and master's degree in plant sciences from UC Davis. Charlie has been photographing wildflowers for 47 years, diligently since 2007. His hobby is hiking to spots to photograph native wildflowers, which he has been writing about in his blog, https://wildflowers.russellramblings.com/, over the past 11 years. Charlie volunteers as a docent at Jepson Prairie Preserve and he is a certified California Naturalist. In addition, he is a docent with the Yolo Basin Foundation Discover the Flyway and bat programs, and a volunteer with NorCal Bats.
Photos by Charlie Russell
Milk Thistle
Common Sunflower
Floating water primrose
Field of Flat faced downingia
---
Vernal Pools: Jewels of the Valley
Eva Butler, Founder, Sacramento Splash
Click here to watch the recording of this talk on YouTube
Discretely scattered across the floor of the Sacramento Valley, vernal pools are our region's ecological claim to fame. The filling of these ephemeral wetlands during our rainy season initiates a recurring cycle of life in an ecosystem of staggering biodiversity. For a few weeks or months each winter, vernal pools provide refuge for innumerable aquatic species, many of them unique to vernal pools. As the pools dry down in April, spectacular displays of wildflowers provide a feast for the senses and a respite for the soul.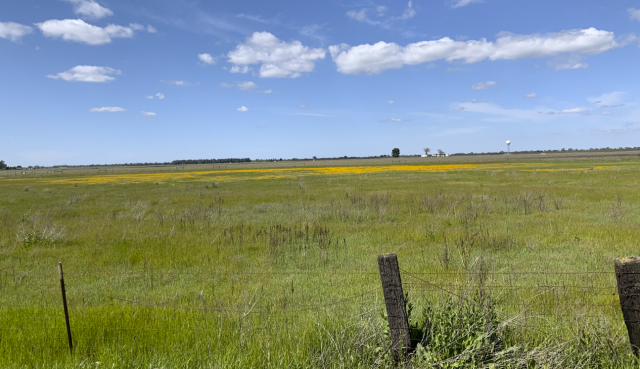 Eva will start out by explaining how vernal pools form and how they went from being ubiquitous to rather rare in the Central Valley. Through her slides and stories, you'll peer beneath the surface and discover a kaleidoscope of life in a complex food web that supports hundred of aquatic species, many unique to this habitat. You'll be dazzled by phenomenal, fleeting displays of wildflowers that beckon each spring, inviting a closer look at petals and pollinators.
Eva Butler recently retired from a 30-year career as an ecologist, educator, and relentless advocate for the vernal pools at Mather Field. Her years as a consultant focused on projects to protect and manage aquatic habitats in the Sacramento region, including the American River and Mather Field. In 1999 she founded Sacramento Splash, a non-profit dedicated to helping children understand and value their natural world.
---
Yolo Basin Foundation offers Flyway Nights on the first Thursday of the month from November to April. A $5 donation to support the Foundation's wetland education programs is suggested. Yolo Basin Foundation members are free. For more information, email Michael at mherrera@yolobasin.org.