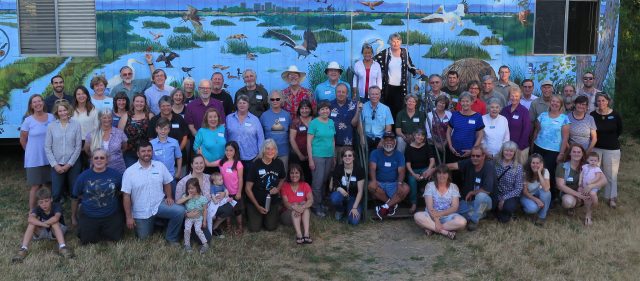 Get involved and have fun too! Volunteer for the Yolo Basin Foundation. You'll meet new people, increase your knowledge of natural habitats and local wildlife, and help support environmental stewardship in our community.
Volunteers can get involved in a variety of ways and times that suit the volunteer's own schedule. There are no set weekly time commitments. We value the time and energy volunteers contribute to our mission, and we want volunteers to enjoy what they are doing.
Throughout the year Yolo Basin Foundation offers volunteer-only field trips, ongoing education, and parties including our Annual Volunteer Picnic and Winter Potluck.
What are you waiting for?
VOLUNTEER OPPORTUNITIES INCLUDE:
---
Bat Talk and Walk Volunteer
Assist with Yolo Basin Foundation's Bat Talk and Walk program. This program runs June to September. Volunteers are required to attend a one-evening training which covers Bat FAQs, room and lobby set-up guidelines, and viewing of nightly fly-out of bats.
Volunteers assist with room set-up, will greet and sign-in guests, sell merchandise, answer general questions, and help ensure guests have a memorable evening. Volunteers agree to assist with a minimum of three Bat Talk & Walk programs throughout the summer. Volunteer shifts begin between 5 and 6 p.m. and finish between 9 and 10 p.m., depending on the time of sunset.
Bat Talk & Walk Volunteer Job Description
---
Discover the Flyway Docent


If you have a passion for conservation, an enthusiasm for sharing this with kindergarten through 12th-grade students, and a desire to learn more about local wetlands, then become a docent with Discover the Flyway! Docents lead hands-on learning stations, assist with field supplies, help develop program tools, and team up with staff to co-lead and assist with Yolo Bypass Wildlife Area tours and nature walks.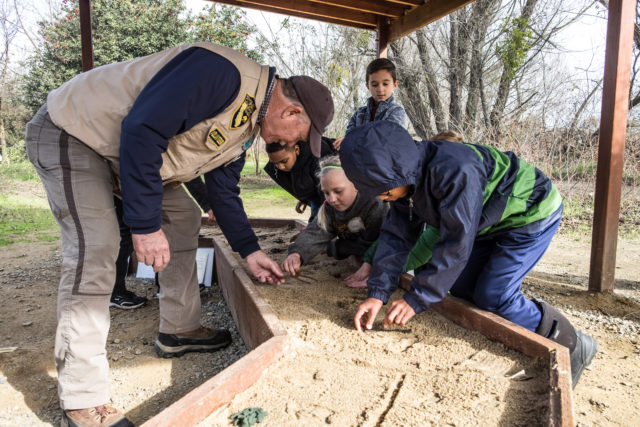 Volunteer shifts are weekdays throughout the school year from approximately 8 to 11:30 a.m. for activity stations and 11:30 a.m. to 2 p.m. for Wildlife Area tours. Docents commit to lead, assist or shadow a minimum of three times a month.
Discover the Flyway docents participate in a comprehensive training that provides an introduction to wetlands and how to lead each of the learning stations.
Discover the Flyway Docent Job Description
---
Wetlands Tour Docent – Yolo Bypass Wildlife Area and City of Davis Wetlands
Wetlands Tour Docents become experts on local birds and the natural history of these unique and multi-functional ecosystems. Help educate the public by leading and assisting with monthly tours of the Yolo Bypass Wildlife Area and the City of Davis Wetlands. Learn and share fascinating facts about our local wetlands and the Yolo Bypass.
Docents should have an interest in public speaking, the natural history of wetland and riparian species, and conservation. Davis Wetlands tours occur the first Saturday of every month. YBWA tours are the 2nd Saturday of the month, October to June. Docents commit to lead or assist with a minimum of two tours a year.
Wetlands Tour Docents participate in a multi-day training which provides an overview of the Yolo Bypass Wildlife Area, the Davis Wetlands, basic interpretation techniques, and wetland habitats and common birds. A background check through the City of Davis Police Department is required for all Davis Wetlands docents.
Wetlands Tour Docent Job Description
---
Special Events and Projects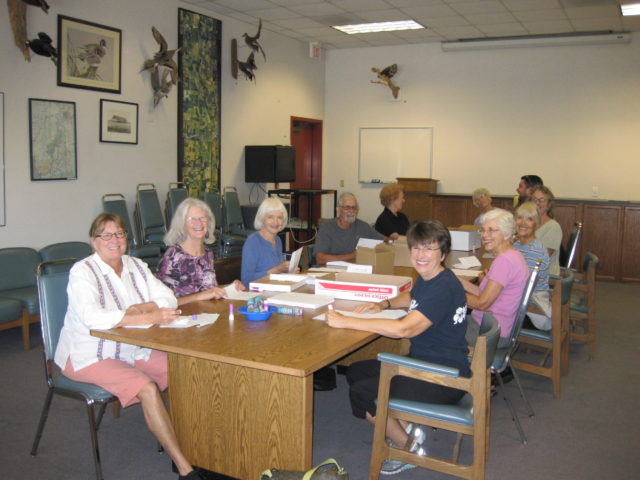 Throughout the year, Yolo Basin Foundation organizes special events such as Bucks for Ducks and California Duck Days. Our volunteers are our number one resource for making these events a success. Both Bucks for Ducks, our annual gala fundraising event, and California Duck Days, a fun wetlands and wildlife festival, require at least 100 volunteers!
Additionally, volunteers are needed for several other special events, programs and projects such as mailings, tule harvesting, summer camps, data-entry, and clean-up days.
Episodic volunteering is a fantastic way for busy individuals to support Yolo Basin Foundation in a way that fits their schedule.