Classroom Programs for
1st-12th Grade Students
The program information currently on this webpage is being revised for the 2021-22 school year. Check back for updates later this month.
Reservations for in-class Wetland Wagon activities will open the week of August 16.
Wetlands Wagon is an environmental education program where the nature and science of the Yolo Bypass Wildlife Area is brought into 1st – 12th grade classrooms. This program is an extension of our Discover the Flyway field trip program. The field trip has been modified for the classroom, conveniently bringing the wetlands indoors. The program's goal is to provide environmental education to youth on the importance of the Wildlife Area's wetland habitat for wildlife, flood protection, water quality, agriculture, and environmental health. The program promotes conservation, environmental stewardship, and healthy outdoor activities.
The program is a partnership between Yolo Basin Foundation and California Department of Fish and Wildlife. It is supported by the Teichert Foundation. Since 1997, over 60,000 students have experienced a program with us, and we aspire to reach more.
Program Options
Program &
Grade
Length of
Program

Includes
20 min.
Activity 1:


Includes
20 min.
Activity 2:


Wetlands of
Migrating Salmon
1st – 2nd
1 hour

Wetland Pond
Study

Salmon Senses

Wetland Birds
3rd – 5th

1 hour
Wetland Pond
Study
What Can I Eat
with This Beak

Wetland Water
Quality
6th – 12th

1.5 hours in-class

2 hour field day
(optional)

Water Quality Test
Stations
X
Activity Descriptions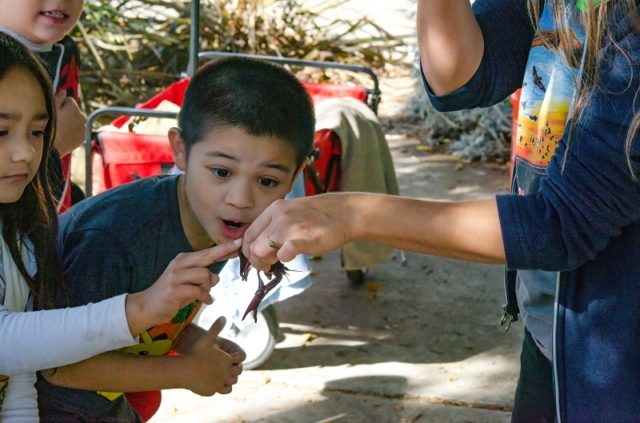 Wetland Pond Study Activity (1st-5th)
Students collect water samples with live aquatic invertebrates to view, identify, and record. They discover how these animals survive: their diet, movement, adaptations, interactions within the environment, life cycles, and tolerance levels to pollution.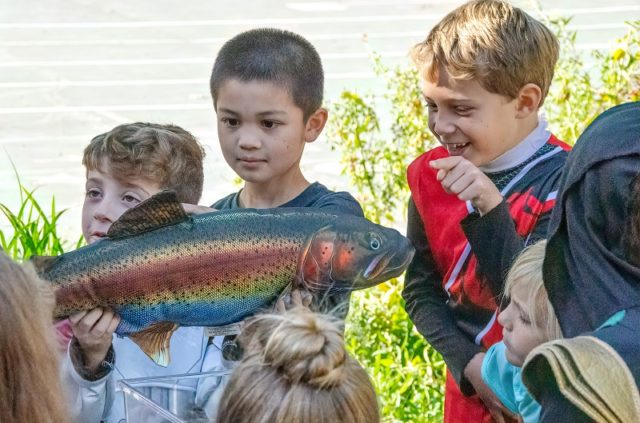 Salmon Senses Activity (1st-2nd)
Students become fish, specifically, salmon, immersing themselves in a salmon's life cycle and finding their way back to their birth river to continue this cycle. They explore the habitat and water quality needs for salmon survival.
Teacher Resources for Salmon Senses:
Salmon Senses Write-up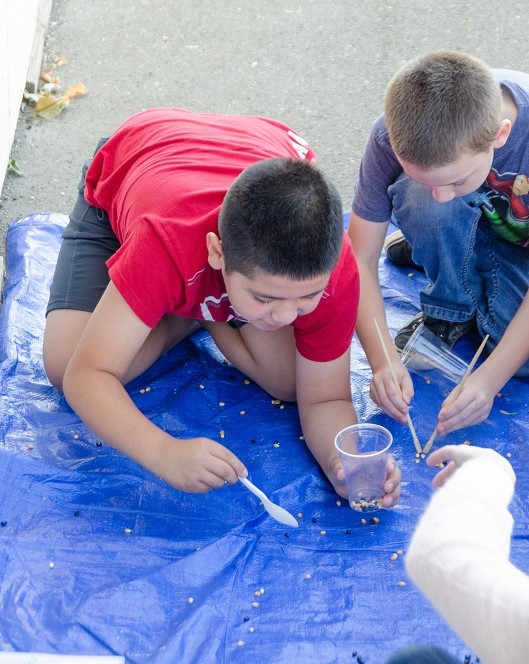 What Can I Eat with This Beak? Activity (3rd-5th)
Students research wetland bird biodiversity through two hands-on activities and record their findings about bird beaks and diet. They become wetland birds by using various props as beaks to "feed" on "wetland animals and plants" in and near a mock pond, experiencing co-existence and learning how water quality impacts bird biodiversity.
Teacher Resources for WCIEwTB:
What Can I Eat with This Beak Write-up
Worksheet
Water Quality Program (6th-12th)
Students discover threats to our water systems and the scientific tools and methods which are used to determine the health of our water. Students work in small groups to test water samples from the Yolo Basin Foundation's wetland ponds, recording pH, dissolved oxygen, temperature, oxidation reduction potential, conductivity, total dissolved solids, salinity, and turbidity. Classes have the option to participate in a local field trip to test water in the Yolo Bypass Wildlife Area, contributing to real scientific data. (Please specify in the reservation if you would like to schedule a field day and how many. See "Field Day" pricing below.)
Teacher Resources for Water Quality Program:
Water Quality Station Charts
Turbidity Background
Temperature Background
Total Dissolved Solids (TDS) Background
Salinity Background
pH Background
Oxidation/Reduction Potential (ORP) Background
Dissolved Oxygen (DO) Background
Conductivity Background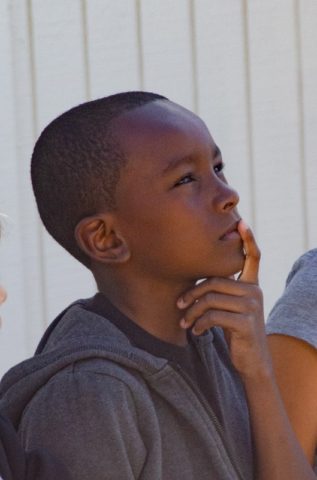 Program Details
Wetlands Wagon Classroom Programs are offered every Wednesday, September through May.
Programs are 1 hour to 1.5 hours in length (see table above).
Teachers are required to lead the second station. Provided above under the activity description are the teacher-led activity write-ups to prepare for your classroom visit.
We can accommodate 1-3 of the same program per date.
Due to program materials and set-up, the program needs to be set-up in one location on the school campus, where students are walked to the program location from their home room. This could be in one classroom location, the auditorium, library, or an outside field/area. All outside or one station inside and one outside are good options.
A 15 minute re-set time is required between programs.
Maximum number of students per program is one class size (approx. 35 students).
Minimum number of students per program is 10.
Program Fees
Payments are due two weeks before the first scheduled program date, unless another time frame is required by your school. Please inform/request from us if the latter.
Payments should be mailed to:
Yolo Basin Foundation
P.O. Box 943
Davis, CA 95617
| | |
| --- | --- |
| # Programs (classes)/day | Program Fees |
| 1 | $200 |
| 2 | $250 |
| 3 | $300 |
Note: Schools or organizations more than 25 miles away from the YBF office will be charged a travel fee of $.60 per mile for each additional mile (round-trip).
Funding assistance may be available to Title I schools. For more information, contact Heidi Satter at hsatter@yolobasin.org.
Program Terms and Conditions
Before making a Reservation Request, please CLICK HERE to review the Program Terms and Conditions.
Questions?
Contact Heidi Satter at hsatter@yolobasin.org.
Wild About Wetlands Kits
Wild About Wetlands Kits are available to teachers to prepare students for their Discover the Flyway program or to supplement wetland education. Kits include activities and lessons with all materials provided. Teachers or other youth leaders can check out kits FOR TWO WEEKS.
We are also revising some of the activities to a virtual platform. Here is an example https://www.yolobasin.org/whoseskullisit/
Teachers must pick up and return kits at the Yolo Basin Foundation office. To reserve a kit, email Corky Quirk at cquirk@yolobasin.org.