YBWA Management Plan
The Yolo Bypass Wildlife Area Land Management Plan was developed in 2008 by the California Department of Fish and Game and the Yolo Basin Foundation.
---
Yolo Bypass Working Group
The Yolo Basin Foundation initiated the Yolo Bypass Working Group in 1998 under a CALFED Ecosystem Restoration Grant. This ad hoc stakeholder group is very successful and continues to meet as needed. Over 40 people representing a wide range of stakeholders with an interest in the Yolo Bypass regularly attend these meetings.
Participants include landowners (farmers, ranchers, duck hunters), Department of Water Resources, Central Valley Flood Protection Board, CA Department of Fish and Wildlife, US Fish and Wildlife Service, Natural Resources Conservation Service, Dixon and Yolo Resource Conservation Districts, Sacramento Area Flood Control Agency, Yolo County, City of West Sacramento, City of Davis, California Waterfowl Association, Ducks Unlimited, Sacramento Yolo Mosquito Vector Control District, American Rivers and others.
More Information
---
Yolo Bypass Studies Related to the Bay Delta Conservation Plan
The following studies were conducted under the direction of Yolo County with assistance from Yolo Basin Foundation as a way to provide technical information into the development of a series of actions that would make up the Yolo Bypass Conservation Measure in the draft Bay Delta Conservation Plan. Yolo County Board of Supervisors' resolutions related to the Delta and Yolo Bypass are also included.
Yolo Bypass MIKE-21 Model Review: Strengths, Limitations and Recommendations for Refinement (Sept. 2012)
Yolo Bypass Flood Date & Flow Volume Agricultural Impacts Analysis Final Report – April 2013
County of Yolo Delta Priorities 2012 (Board Adopted)
Waterfowl Impacts of the Proposed Conservation Measure 2 for the Yolo Bypass – an effects analysis tool, July 16, 2012
To access any of these studies, please click the following link to the Yolo County Delta eLibrary.
---
Yolo Bypass Integrated Project (April 2007)
Yolo Basin Foundation is the designated project leader for the Yolo Bypass Integrated Project of the Yolo County Integrated Regional Water Management Plan (IRWMP).
For a copy of the IRWMP go to:
Water Resources Association of Yolo County website: Yolo County IRWMP.
---
Yolo Bypass Management Strategy (2001)
The Yolo Bypass Management Strategy (Management Strategy) presents a locally based concept for the future of the Yolo Bypass (Bypass). A Framework for the Future: The Management Strategy is the culmination of a stakeholder-based project funded by the CALFED Bay-Delta Program (CALFED).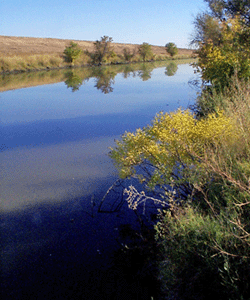 Chapter 1 presents general information about the location of the project area, background about the project process, and descriptions of past and present projects that are related to the Bypass.
Chapter 2 presents a description of existing conditions in the Bypass, with an emphasis on existing land and water uses and historic and recent flood flow and low-flow hydrologic data.
Chapter 3 describes several assurances and related issues that landowners need addressed to feel more comfortable about considering habitat-related land use changes in the Bypass.
Chapter 4 presents a set of realistic habitat recommendations prepared by the Yolo Bypass Working Group (Working Group), including an analysis of habitat benefits, ways in which such ideas could match with CALFED is targets and actions, and constraints that could prevent implementation of such recommendations.
Chapter 5 presents conclusions and recommendations of several technical studies that will likely be necessary to achieve future implementation of potential habitat enhancement ideas.
---
Final Report – A Framework for the Future: Yolo Bypass Management Strategy
(Figures from the document are listed below and separately to allow for faster download times)
Report Chapters
Figures
1-1
Project Location
(5.4 MB)
1-2
Map of the Sacramento River Flood Control Project
(137 k)
1-3
Proposed North Delta National Wildlife Refuge — 12,300 acres
(122 k)
2-1
Landforms of the Yolo Basin Study Area, Indicated by Soil Type
(587 k)
2-2
Soil Types
(1.9 MB)
2-3
Hydric Soils
(1.2 MB)
2-4
Northern Portion of the Yolo Bypass
(135 k)
2-5
Southern Portion of the Yolo Bypass
(193 k)
2-6
Periods of Yolo Bypass Inundation at Lisbon Gage, 1935-1999
(43 k)
2-7
Duration and Maximum Stage of Inundation at Lisbon Gage during
1935-1999
(28 k)
2-8
Relationship of Maximum Stage to Duration of Inundation at the
Lisbon Gage, 1935-1999
(25 k)
2-9
Annual Unimpaired Runoff in the Sacramento Valley (4-Rivers Index)
during 1906-1999
(22 k)
2-10
Relationship between Yolo Bypass Inundation and Sacramento Valley
Unimpaired Runoff, 1935-1999
(34 k)
2-11
Annual Maximum Daily Flows at Fremont and Sacramento Weirs and
Duration of Yolo Bypass Inundation during Water Years 1935-1999
(28 k)
2-12
Annual Maximum Daily Flows in Putah and Cache Creeks and Duration
of Yolo Bypass Inundation during Water Years 1935-1999
(29 k)
2-13
Periods of Overflow of the Fremont Weir, 1935-1999
(43 k)
2-14
Hydrographs of Yolo Bypass Inflows and Stage at Lisbon Gage under
Wet Conditions during Water Years 1995-1998
(206 k)
2-15
Hydrographs of Yolo Bypass Inflows and Stage at Lisbon Gage under
Wet Conditions during Water Years 1995-1998 (Expanded Scale)
(261 k)
2-16
Hydrographs of Yolo Bypass Inflows and Stage at Lisbon Gage under
Dry Conditions during Water Years 1987-1990
(195 k)
2-17
Cache Creek Flow and Lisbon Gage Stage during Water Year 1998
(127 k)
2-18
Effect of Cache Creek Runoff Events on Stage at Lisbon Gage in
Years without Fremont Weir Spills
(20 k)
2-19
Relationship of Fremont Weir Spill to Sacramento River Flow at
Verona
(75 k)
2-20
Daily Flows in Colusa Basin Drain at Highway 20 and the Outlet
Gate to the Sacramento River during Water Year 1996
(44 k)
4-1
Yolo Bypass Habitat Opportunities and Constraints, Chapter 4 Organization
(19 k)
4-2
Conceptual Tailwater Pond Plan and Section
(47 k)